On Saturday, Sampdoria striker Fabio Quagliarella netted a brace and assisted another as Il Samp registered an emphatic victory over Udinese. At 35-years-old, Quagliarella is still banging the goals in week after week in Serie A, and his latest goals saw him equal a long-standing scoring streak record held by the great Gabriel 'Batigol' Batistuta. It's not always been plain sailing for Quagliarella, though. The highest active scorer in Serie A has had a strange career off the pitch, but a legendary one on it, that will see him go down as a modern day calcio icon. Lets have a look inside the weird and wonderful world of Fabio Quagliarella: from striker heaven to stalker hell and back again…
The dream move
Diego Maradona, Walter Gargano, Fabio Quagliarella, Edinson Cavani – what do these four players or ex-players have in common? They all had a song dedicated to them by the Napoli faithful. By song, we don't mean a little chant mustered up in the concourse at half time like we see over here in England, or not even a terrace classic. Instead, the local radio station – Radio Kiss Kiss – have produced actual songs for these. I don't know who they get in to sing the choruses, or how legal the sampling is, but they have all been pretty catchy.
The tune of the Quagliarella anthem goes a bit like this: BOOM BOOM! QUAGLIARELLA! BOOM BOOM! QUAGLIARELLA! He makes the whole city dream! 
Not many clubs in world football have a set of fans that take to the players and idolise them quite like Napoli, so when Quagliarella signed for the club, they took him under their arm like one of their own.
Quagliarella had always dreamed of playing for Napoli. Why wouldn't he have those dreams? Born in Castellamare di Stabia on the outskirts of Naples, Quagliarella was brought up in the shadow of Mount Vesuvius and infected with the passion and love for football. When Quagliarella was just four years old, the legendary Diego Maradona led Napoli to the Serie A title for the first time in their history. Three years later, they did it again, with Quagliarella old enough to remember this time. Football consumed the city at this time, as it still does today. Paddy Agnew joked in his book Forza Italia that the first thing Neapolitan's spend their money on is food, then it is on football, then it is on accommodation.
It wasn't going to be easy for Quagliarella, who was made to work to become a professional. He began his career at Torino, making his debut in 2002. It didn't work out in Turin for Quagliarella, who struggled for game time at a club severely strapped for cash. After brief spells at Ascoli and Sampdoria, Quagliarella finally found a bit of stability at Udinese. It was in Udine that he really made a name for himself in Serie A as a goalscorer, in a partnership with the formidable and loveable striker, Toto Di Natale.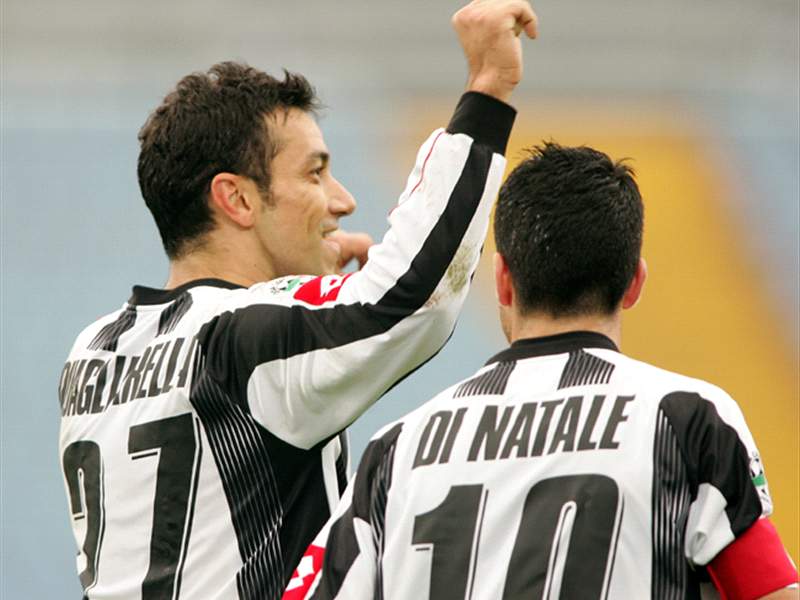 After two seasons in Udine, Quagliarella got his dream move, in an €18m move to Napoli. "Napoli has always been my dream and today I am very happy because that dream has come true", he said at the time. 
Locals rejoiced as he returned as a son of the city. Even a spokesperson for the local mafia – the cammoristi, proclaimed their happiness. It was a perfect move for all concerned. His first season went well, with Quagliarella playing alongside Marek Hamšík, Ezequiel Lavezzi et al, to help Napoli achieve a spot in European competition.
All seemed well. Quagliarella was on cloud nine. The boy from the small suburb in Naples was playing out his dreams, lived with his family, had his friends close by, and was ready to spearhead a generation of Napoli players including Cavani and Lavezzi, back to the top.
All wasn't well, though…
Stalker hell
After little over a year in Naples, Quagliarella was gone again, moving to title rivals Juventus. Why? Why leave your boyhood club? The only conclusion one could bring was that Quagliarella was seeking the high life, or the money. That was far from the case. What the fans did not know was that Quagliarella was subject to torment and mental torture for his whole time at Napoli.
It all started a few years before his departure (and even arrival) in Naples. In December 2006, Quagliarella went home to Naples (before his move to the club) for the winter break. During his rest, he enquired to an old friend about his phone that had recently been hacked, on how best to fix it. That man was policeman Raffaele Piccolo. The duo helped each other, and exchanged phone numbers at the end.
Two years later, Quagliarella had fulfilled his childhood dream and signed for Napoli. Off the field, he had been receiving anonymous text messages, accusing him of being a drug addict and linking him to high officials of the cammorristi – the mafia. Upon joining Napoli, the frequency and severity of these texts increased two fold. Rejoice for Fabio – he lived in proximity of his police officer friend Mr Piccolo. The officer helped Quagliarella, writing up the police report and wiping his phone, for which Quagliarella repaid him with signed Napoli tops and match tickets.
Changed number, problem solved? Far from it. In fact, this made the problem worse. Instead of getting messages, Quagliarella now received letters through his letter box, as well as a coffin with his name on it. The letters alleged that Quagliarella was a paedophile. They accused him of match fixing, which could rip through his professional life, not just his personal life. It wasn't just Fabio baring the brute, his parents received messages, including one that read: "I know your son is out in Naples tonight. We will shoot him in the legs. We will beat him to death."
Quagliarella was unsure who to trust – for all he could have known, it could've been a team mate. The intensity of his training decreased, while his performances on pitch suffered. After a while, Quagliarella saw the end and decided it was best to leave Naples, joining Juventus.
The boyhood hero had become a Judas.
Introvert Quagliarella sat down with Bleacher Report for a 70 minute chat about the topic. He said: "Any tiny gesture became a danger, once you knew about these threats. You felt constantly observed, threatened, always looking to see who was eyeing you sideways. You cannot imagine the tension in my home."
Five years of torture came to an end when his father, Vittorio, uncovered the truth. The father met with Mr Piccolo to discuss the situation. He quizzed Piccolo on the text messages but Piccolo claimed he had deleted them, when he became flustered that Vittorio had demanded to see them all – after all, Piccolo was the police officer in charge of the investigation, so why had he deleted them?
"I think it's that shit [Piccolo]", said Vittorio when he left and rang his son Fabio. He was on to something. For nearly five years, father and son Quagliarella had been feeding evidence to Piccolo, but upon arrival at the police station, he was told there was no evidence – not one trace. The police launched their own investigation and concluded that after all, it was Piccolo.
It took until February 2017 for Piccolo to be convicted of slander and stalking offences – sentenced to five years imprisonment, but he never went to prison, due to a flaw in the Italian justice system.
Nevertheless, all injustices aside, Piccolo and Quagliarella will never meet or contact each other again, which would be a huge sigh of relief for Quagliarella. There was still a loose end though, a big one: Quagliarella was still hated as a traitor in the Napoli fan base.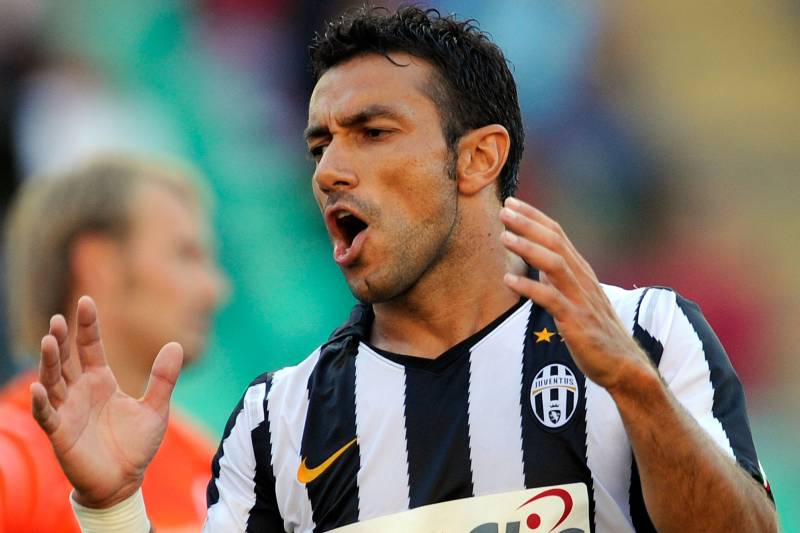 They weren't quite stalked, but the Quagliarella family still received hate from other ways, in the form of mail from Napoli fans outraged at his 'decision' to move.
He told the Independent: "The letters I received at home he also sent to my club. Before the away trip to Sweden, they called me and said I would not play because I was sold to Juventus. It was the first I'd heard of it.
"People accused me of leaving Napoli for money, but that was not true and really annoyed my family. The fans cared for me and felt betrayed, but they couldn't know the real reason I left. They saw me becoming their captain, of winning something with the team. If it was up to me, I'd still be there at the San Paolo, as scoring those 11 goals were worth 100 to me.
"I tried to let them know how much I loved Napoli with little gestures, like refusing to celebrate after the goal for Torino. Would I go back to Napoli? It'd be wonderful even to just know those fans had thought of me. I left unfinished business there."
The Napoli fans heard him, unveiling this banner:
"En el infierno que has vivido, enorme dignidad. Nos volveremos a abrazar, Fabio, hijo de una ciudad". Bonita reconciliación. pic.twitter.com/Flq4rcg33P

— Matías Baldo (@matiasbaldo) March 13, 2017
"You've lived through hell with enormous dignity," it said. "We will embrace you again, Fabio, son of this city."
He may not have got his dream of emulating his hero Maradona by lifting the title with Napoli, but at least he is again embraced by the Naples faithful.
The recovery and Indian summer
One could forgive Quagliarella if he just packed in football after the stalker saga, but he did the opposite, with his career going from strength to strength.
Recently equalling Batistuta's Serie A record of consecutive games scored in, Quagliarella turns 36 soon, and will surely go down as an icon of calcio.
With the heart of a lion, and a highlights reel bettered by few, Quagliarella is a modern day Italian icon that has now etched his name alongside the greats in calcio history. He could be said to be a scorer of great goals rather than a great scorer of goals – he never scored more than 13 league goals until last season at Sampdoria, but he is having an Indian summer now in the effervescent city of Genoa.
From airborne back heel volleys to long range pearlers, Quagliarella is the sort of striker you'd pay for a compilation of his best goals, many of them physics-defying and mesmerising.
At Sampdoria, he is seen as an experienced veteran in a young team, and is the highest active scorer in Serie A, with his eyes on the top 20 of that list.
Oh my! Fabio Quagliarella delivers goal of the year candidate as Sampdoria shock Napoli in Serie A. pic.twitter.com/ZjcOZGsl0b

— ESPN FC (@ESPNFC) September 2, 2018
https://platform.twitter.com/widgets.js
Where does Quagliarella go from here? Few have talked about a potential fairytale ending, with a season or two at Napoli. That cannot be ruled out, but it is unlikely he would feature regularly. A more realistic objective could be Roberto Mancini's Italy squad for Euro 2020.
Mancini, who was a Serie A strike sensation himself back in his day, said: "We have taken the path of young people to try and redo a different national team, but we need to wait for them and we need experienced players too. We have someone in the case of Quagliarella, I'll give you an example: if we get to the European Championship and Quagliarella is the top-scorer in Serie A, he can be useful, in this phase the important thing is that the team can play a lot and create very good chances."
Going into February, Quagliarella is top scorer in Serie A, ahead of the record-breaking Cristiano Ronaldo and breakout talents Duvan Zapata and Krzysztof Piatek.
He may be in the final chapter of his career, but there are plenty more pages of Quagliarella genius yet.
Let this serve as an ode to the great striker, who fought off stalker hell to return to his heaven of striking sensation. All is left to say is… BOOM BOOM QUAGLIARELLA… 
BUM BUM Quagliarella BUM BUM Quagliarella BUM BUM

shoot that ball in that goal

BUM BUM Quagliarella BUM BUM Quagliarella BUM BUM

what a champion's hit

with him they know there's no escape he shot from the midfield and with no problem he scores a goal

he is not able to score a normal goal but we like him this way-ayyyy

BUM BUM Quagliarella BUM BUM Quagliarella BUM BUM

he makes the whole city dream.
—–